Molecular formula: K2SO4 • Al2(SO4)3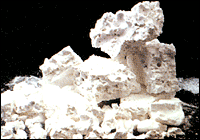 Second name: burnt alum
Chemical name: aluminium potassium sulphate
Food for production licence: (98 Z.X.Z.zi. NO.45) International advanced level in 2000
Summary: Dehydrating potassium alum(alias dry alum) is a kind of rawmaterial of compound loose agents. The main ingredient of the dehydrating potassium is edible aluminum potassium sulfate.
Dehydrating potassium alum is white loose and crash powder, nonpoisonous, smelless, no odds, strong convergency, easily absorbs moisture, soluble in water and the aqueous solution is acidity.
Main Usage: The most essential basic material is the most convenient and essential additive in processing the noodle food and food cakes etc., as well as the food anti-corrosive agent, water product caring agent, pharmacy and fresh vegetable color and fresh keeping and livestock disease treatment etc.
Executive standard: Q/FKB11-9-2001
Standard \ index

aluminium potassium
sulphate content %

iron
%

heavy metal
%

arsenic
%

topgrade

¡İ97.5

¡Ü0.05

¡Ü0.002

¡Ü0.0002
Packing standard: Net wt 25kg/bag (inner plastic film and outer plastic braiding bag)